A lot of holiday home owners find decorating a holiday home intimidating. It's totally possible to gain bookings at a vacation rental that's been put together quickly, but it won't create an inviting guest experience. Holiday homes aren't the same as buy to sell investments – you should add a little bit of character. So what can you do to create a welcoming space for your guests? Our holiday let management experts have 5 holiday home interior design tips for you.
Don't skimp on interior design essentials for your holiday home
It can be tempting to save money with cheap fixtures and fittings, but this can ultimately cost you more money in the long term – and impact your reviews! Invest in some good quality items to keep the interiors timeless. This will also result in a more comfortable stay for your guests.
A great example given by Schofield's is the importance of a good night's sleep. You don't want moody guests leaving bad reviews, and nothing makes matters worse more than a restless night. When picking out bedroom interiors – go for quality! Make sure the mattress is as comfortable as possible, and bedding is soft. Your guests will be thankful.
Want to add value to your property? Discover more holiday home improvement ideas.
Gather holiday home interior decorating ideas
Clueless when it comes to home interiors? The internet is here to help you. Pinterest is a fantastic resource where you can save boards of holiday home decor ideas and inspiration. Don't be afraid to add a touch of personal character, but picking out a few items you really like and saving them to your board will give you more solid suggestions. Tools like Coolors can also help you with colour schemes.
Don't have a lot of time? Flick through home and garden magazines and websites in your spare time. We love this article from House & Garden showcasing stylish holiday home interior design. When looking up different articles, we recommend sticking to what kind of property you are offering. Coastal homes will have a different vibe from countryside cottages.
Keep everything stylishly lived in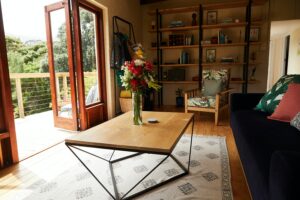 This might go against what you've already heard about decorating a holiday home – but your property should not look like a show home.
Neutral colours and matching furniture is great if you're looking to sell, but it doesn't create an experience for your guest. Obviously you want it to look well maintained, but don't be afraid to add some character.
Avoid buying all of your furniture from one source. Your interiors should look like they have been collected over time, rather than hastily cobbled together from a single catalogue. This is a great opportunity for you to work with multiple local businesses to give your holiday home interior design an authentic edge.
Make use of light and temperature when decorating a holiday home
This tip applies not just to holiday home interior design – but is also something to consider when designing properties to sell, rent or for yourself. Great natural lighting can elevate the mood of a space. Don't obstruct any windows or skylights, and consider using mirrors to reflect light. Sometimes you just have to work with what you have, but mirrors are a great cheat for darker locations.
And what about temperature? With this we're not referring to your heating system, but to the colour schemes you choose to adopt. Gorgeous Cottages has a great article on coastal cottage interior design. In it they talk about blues and whites, a cooler colour scheme that works well with the bright and breezy location. A countryside retreat, however, might benefit from warmer interiors to create a cosy atmosphere.
Regularly look over your holiday home interior design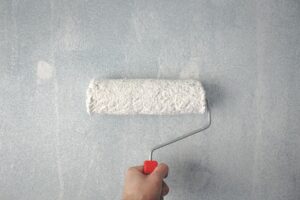 Don't go overboard, but keep in mind that this is something that might need updating. In keeping with our first point, basics like mattresses and soft furnishings will need to be replaced every few years. Try to pick timeless styles where possible, but if you do opt for trends you'll need to look over this at least once a year.
Got some work to do but don't have a lot of time? Classic has a great article on giving your holiday home interior design an update over a single weekend. If you've got the basics nailed down, it shouldn't take you too long to keep everything looking its best. A lick of paint every year might be all you need!
These are just a few of the ways to approach interior design for holiday homes – but the best rules are ones that are broken. Interior design should be fun and reflect a little bit of personality. Don't be afraid to push outside the boundaries, especially if you have a unique property. Just make sure it reflects the local area (and your guests) well.
Short Stay St Andrews are experienced in all aspects of holiday let management – including sourcing, refurbishment and guest turnovers. With over 1000 5-star reviews, we have years of experience behind us. We're also based right in the heart of St Andrews, so we know the local holiday home market like the back of our hand. Get in touch to find out more about how we can help you.
Our AirBnB Made Simple management will make letting your property hassle free.